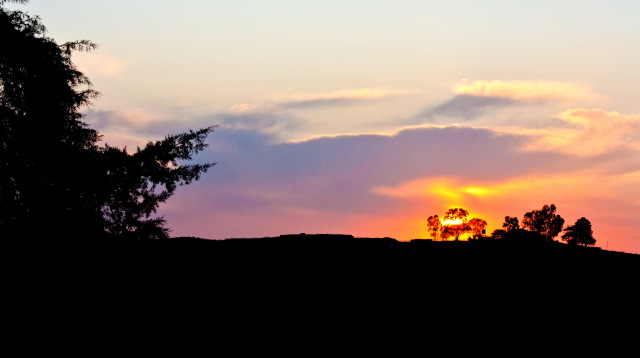 This is yesterday's sunrise. Awe-inspiring – I should have been on the road. Instead I was on the treadmill in my never-ending quest to shed my tortoise image. Last month my coach upped my paces for the speed intervals. I think my eyeballs were bleeding at times. This month he has put them back to the original level and suddenly my threshold pace seems easier – clever that!
We have just over two weeks to the Old Goats first marathon. We've entered the Kaapsehoop (net downhill course!) and our accommodation in Nelspruit is booked. I'm not going to be fooled by this "downhill" though. I was fooled by the "fast downhill course" of the East London marathon last year. I was toddling along like a geriatric bat out of hell, doing very well and within my time limit, when suddenly, at about 36km I was confronted by Snake Hill – an absolute beast. I thought " WTF, what am I doing here?" and I walked. I gave in to that devil on my shoulder. I even stopped to commiserate with a guy lying on the pavement, felled by extreme nausea. I thought of lying there with him and catching the next ambulance. If my running partner hadn't come past telling me to move my arse I would have accompanied him to hospital! I eventually came in at 5:23 – 23 minutes longer than intended. The lesson? NEVER underestimate ANY marathon!
It's taper time now but I suddenly have a new passion – making a vegetable garden! I'm doing all the digging, moving of rocks etc so I like to think of it as cross-training with functional strength work.
And who can resist gardening when you have a view like this?