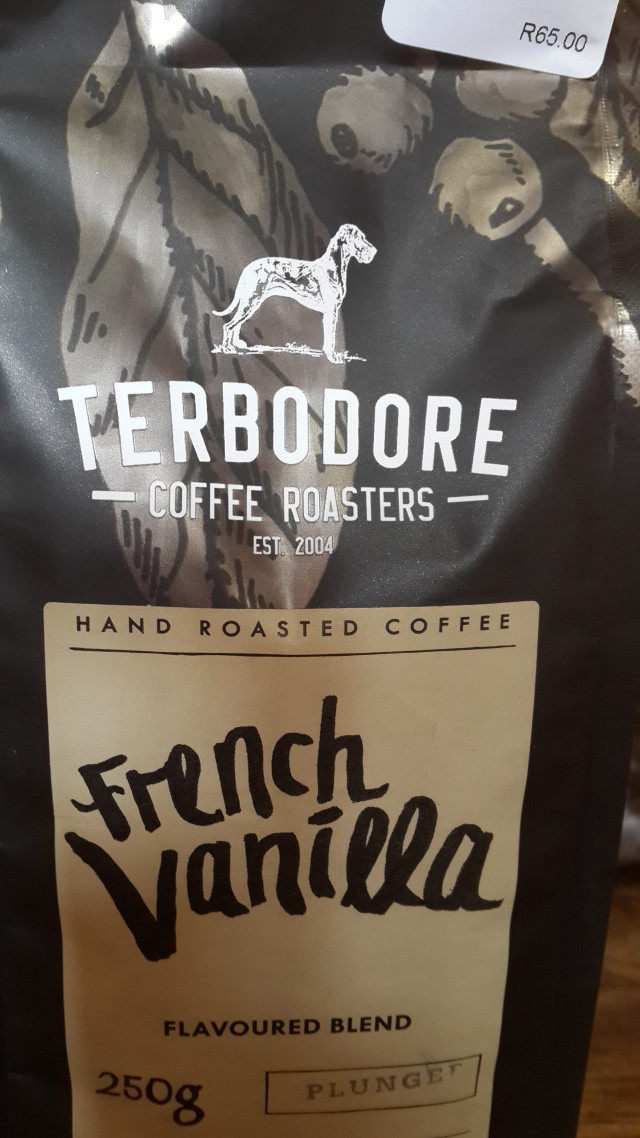 The quickest way to heaven is surely a cup of Terbodore French Vanilla coffee.   WOW,  I am blown away – I have a new addiction!
Pop some in a plunger while heating some milk in a cup.   Pour this freshly brewed gift from the gods onto the hot milk and add xylitol (no, no, no – sugar is sooo last year) and a dash of cream.   Delectable.
But I digress.   I was going to write about Banting breakfasts on a Sunday.   The rest of the week is very standardised – eggs and bacon or nothing – but on a Sunday, after a nice long run on the country roads,  I like to concoct something different.
Here is today's concoction:
Put 3 BIG tablespoons of double cream Greek yoghurt into a blender.   Add a heaped teaspoon of macadamia nut butter,  a teaspoon of xylitol,  a teaspoon of honey,  a tablespoon of desiccated coconut and a VERY generous dollop of cream.   Then add a handful of almonds and pecan nuts.   Blend.   It comes out thick – you eat it with a spoon like half melted ice cream and it is delicious.    Almost too good to be true this Banting thing….  If you are super-strict with your carbs,  leave out the honey and add another teaspoon of xylitol,  but I reckon after a good run (and a 60 km week under the belt) I can afford to splurge on the teaspoon of honey – you can't beat it for flavour.