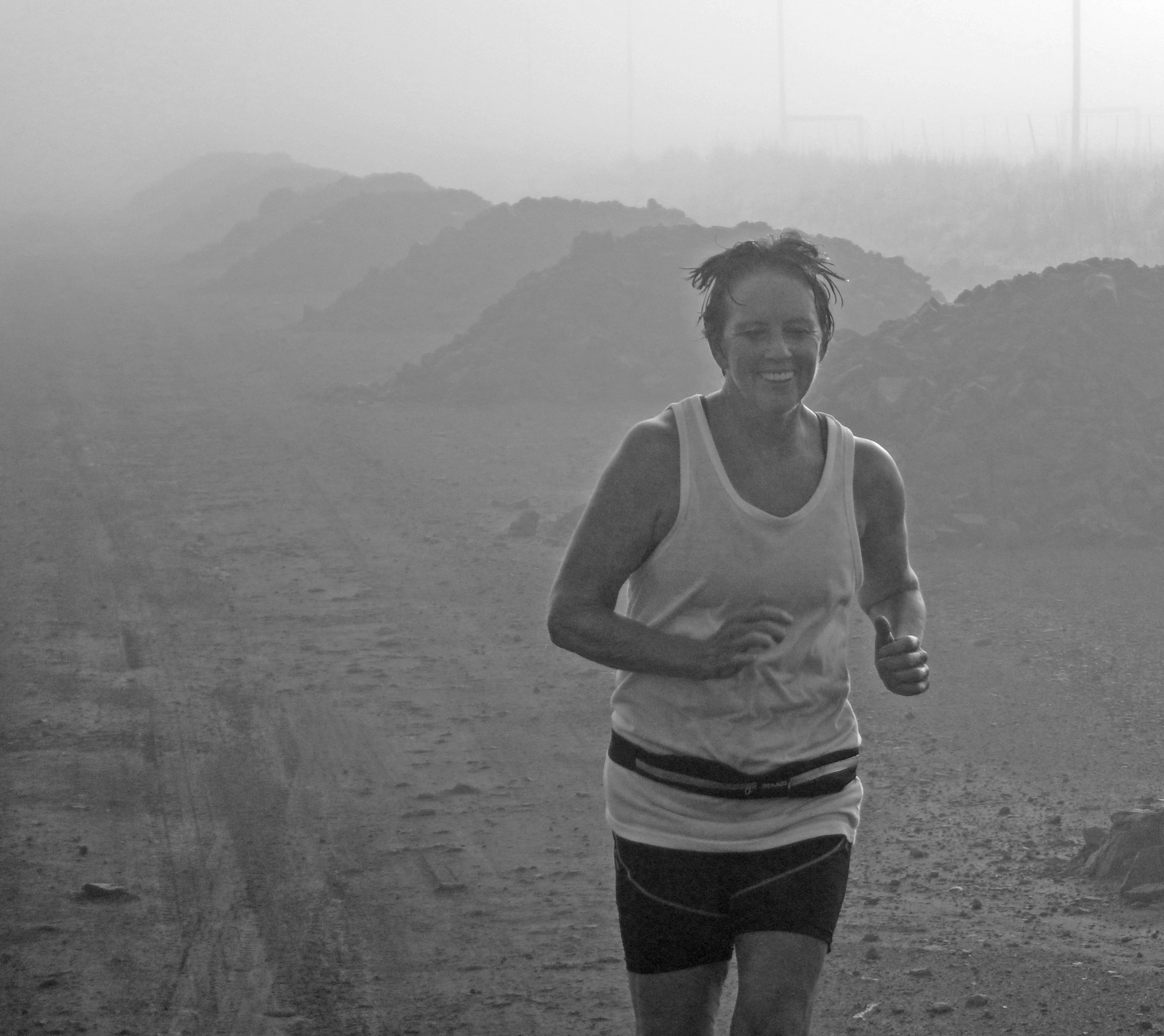 The drowned rat look is hot right now. It makes one look like a hard core trail runner, especially if one manages to smear a touch of mud on one's cheek. But don't despair, it can be quite easily achieved by trotting along gently in the mist, as demonstrated in accompanying pic.
This morning was a gorgeous running morning. Felt almost like autumn, my favourite part of the year, weather-wise and running-wise. Thoughts turn to ultra running. Two Oceans, Om Die Dam, Loskop and Bergville, we need to choose and plan.
Two Oceans is out. The Capetonians are a fussy bunch. To enter their ultra you need a recent sub-5 marathon under the belt.
Bergville is one of my favourites. Heaven only knows why. It entails waking up at 3am in Ladysmith, catching a bus (and I mean those sluggish old-school busses), wending your way to the start in Bergville, having a cup of coffee, pretending this is all a good idea and then running all the way back to Ladysmith, 52 km away! But I have fond memories of snorting a Grandpa headache powder (half up the nose and half down the throat) and then flying past my rather surprised daughters shouting "only 19 km to go ladies!"  Unfortunately the Grandpa-induced enthusiasm wore off shortly thereafter and the girls had to wait for me to hobble home. Still, a good race. The only problem is that one of our sons is getting married on the same day this year.
I have only done Loskop once before. It's a nice route ending at the really lovely Loskop Dam but the year I ran it, we had bucketing rain which rather spoiled the end. I have since heard there are crocodiles in that dam so thank goodness the weather wasn't great for swimming.  I don't think crocs turn up their snouts at sweaty runners. I would love to do Loskop again (sans swimming) but it is a long way to travel as well as only one week after the wedding.
That leaves Om Die Dam, marginally closer at Hartbeespoort and falling on 12 March this year.  A really well organised race where you can get yourself little baby milk tarts at one of the tables if you're quick. The support is fabulous. As is the hosing down of hot back- of- the- packers by sozzled spectators as we wend our weary way through the town to the finish. I think we were given a beer as we finished too.
I'm not sure though whether the OG will drive all the way to Hartbeespoort for a milk tart and a beer. Accompanied by a quick 50 km trot.