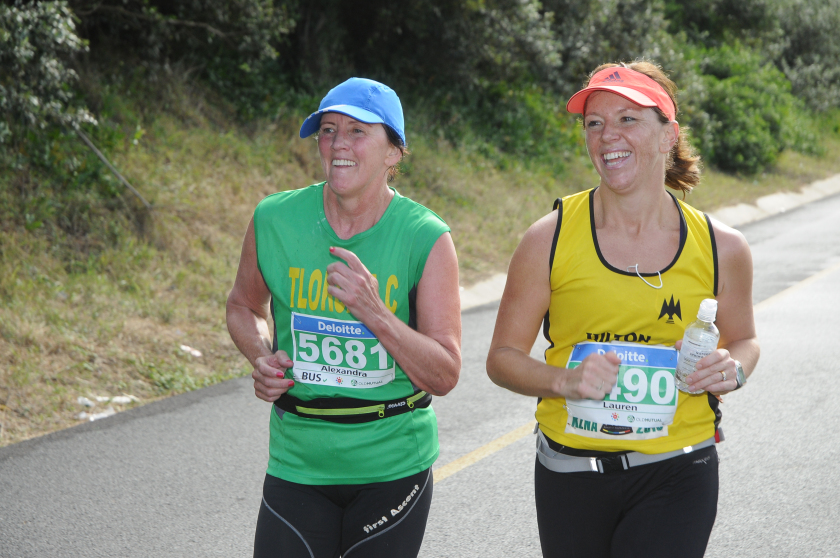 I know, I know – I missed my Comrades Qualifier by 11 minutes! I'm not too bummed because it was my best marathon in three years and I learnt a lot, mainly from said daughter.
First thing – music on the run is not for me. It's cool on the treadmill when I'm really bored but it irritates the hell out of me on the road. Josh Groban or Mandoza, it makes no difference. The beats per minute matching your goal cadence thing does not work for me. A bit of time was wasted fiddling with earplugs etc until teacher took it away!
Second thing I learnt is not to let a mini-meltdown at 18 km phase you. Do not change your goalposts early in the race, however crap you feel and however slow you are. Do not waste energy feeling sorry for yourself. Keep moving forward and, as in life itself, this too will pass. You can then start reeling in time oh so carefully by using those downhills, opening your stride and increasing your cadence. Nothing drastic, teeny tiny improvements. It ain't over till it's over.
If I hadn't had my daughter patiently telling me all this and whipping out her Teacher Voice when necessary, I would have given up and clocked yet another marathon over 5:30. It's given me loads of confidence getting so much closer to 5 hours. I know I can do it! Thanks Lols!