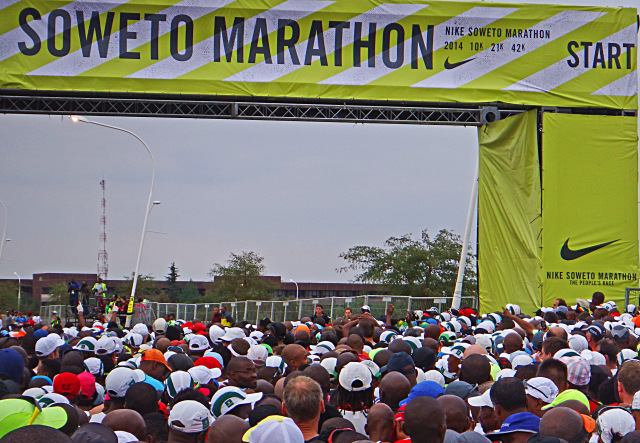 Marathons are like childbirth.   Such a mixture of excitement and nerves before the event.   Such pain during the event.   Smug satisfaction and a feeling of power as we conquer that pain.  And then very convenient amnesia where we forget that pain and decide to do it all over again!
The Nike Soweto Marathon was my 6th marathon since the 1st March – just over 8 months ago.  Thank God it's not child-birth!
I set out to do as many marathons as I could this year so that the distance and pain would no longer be intimidating.   Well I don't think that 42 plus kilometres ever loses it's ability to intimidate but I must say I don't feel nearly as nervous as I used to be.  This could also be because  I'm not (yet) trying to crack that elusive sub-5.  My last four have all been done at 6-plus hours.
As for running through Soweto – I loved it!  The course twisted and turned and was constantly entertaining.  I saw things I would never have imagined to exist in a township – many streets lined with established trees, a few nice looking parks, an enormous mall and even a perfectly groomed Maltese Poodle chilling in a tiny little dirt yard.  Entrepreneurship seems to be going strong there as well.  My favourite was a huge advert by someone selling tombstones – "Pay once and enjoy forever!"  I got to run past Mandela's home on the famous Vilikazi Street.  There was some pretty cool stuff going on there but unfortunately the hill was so steep I could barely breathe!
As a white woman from the "privileged class" I received far more friendship and support than I ever would have imagined.   Thank you Soweto for a really good time!