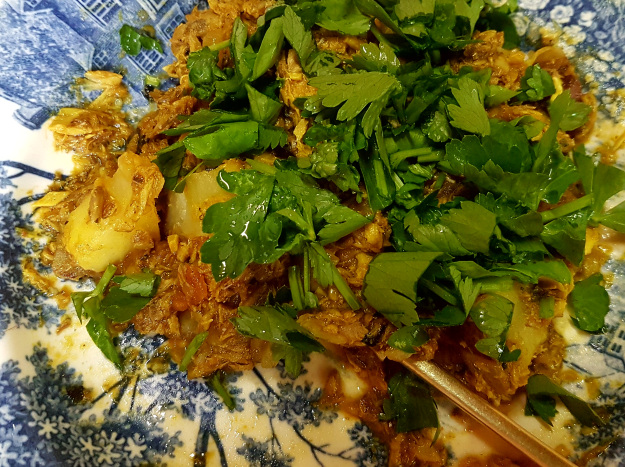 Okay, okay, I know that I do go on about eating oily fish but it is hugely important in reducing inflammation and avoiding sore and stiff joints.
I also know that Gordon Ramsay is not rushing to curry tinned fish so relax you food snobs out there! If you can afford smoked salmon, some nice haddock or fresh seared tuna, get on with it. If you can't, try this fish curry – by far the best way I have dressed up my Lucky Star yet!
Steam chunks of sweet potato for about 30 minutes until soft and put aside to add to the curry later.
Fry an onion in a tablespoon of coconut oil for a few minutes. Add a teaspoon or two of masala, some turmeric, cumin and any other spices you like with a curry. Fry for a few minutes. Add 2 teaspoons of ginger and garlic mix and fry for another few minutes.
Add half a tin of tomatoes, one teaspoon of xylitol and half a cup of chicken stock. Mix well and then add two tins of middle cut in brine. Add the steamed sweet potatoes and cook for 15 minutes to let all the flavours blend nicely.
Serve with chopped coriander.