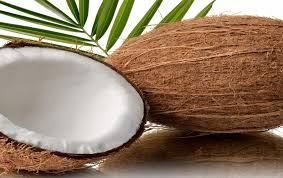 I have hated porridge since I was a child – I was obviously super-smart – those grains are evil!    But here is a Banting-friendly Coconut Porridge that takes 15 minutes to make and is delicious!   It makes a nice alternative to eggs and bacon on a cold morning when a smoothie or yoghurt  just doesn't sound appealing.
Pop 2 tablespoons of butter in a pot and melt.    Add 1 cup of dessicated  coconut and let it toast in the butter.   Stir continuously and watch it like a hawk  –  it burns easily.    When the coconut is lightly toasted add 1 can of coconut milk and bring to the boil.   Now add 1 heaped tablespoon of ground flaxseed (soooo good for you  –  all that Omega 3),  a pinch of salt and a few drops of vanilla.   Let the mixture bubble away for 8 to 10 minutes while it thickens.
I eat this porridge with a teaspoon of honey and a handful of almonds stirred in.   No milk required,  the consistency is perfect as it is.
You could also add more coconut sprinkled on top or serve it with berries.   Very versatile.
Viva Banting Breakfasts Viva!