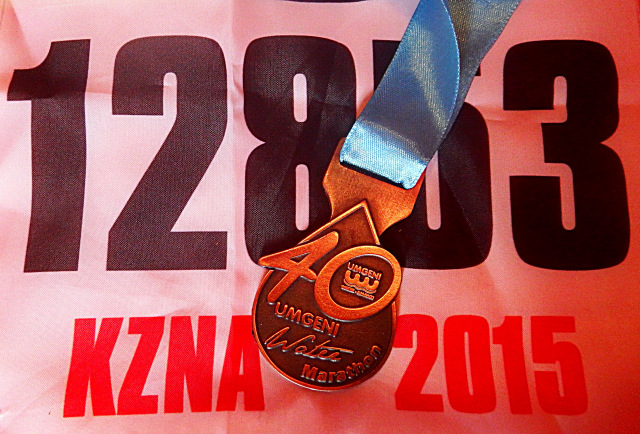 Well my OG is now officially a licenced runner and he has also seen the back of a 32km race.   We hadn't really trained for a distance above 21.1km but he thought it would be easy to tack on 11 km.  I think he's been eating his words ever since, but he did it.   His 3 litre diesel engine didn't let him down, though he did admit it was running on empty for the last 8 km.   He also has an amazingly strong mind.   This is obviously a highly desirable characteristic for distance running though I often like to refer to him as just bloody stubborn.
My race?   Well, my heart wasn't really in it from early on – my hammy and hip were giving me grief – and we don't really need distance  because we're not doing Comrades this year (thank the Pope).   We really only need to ramp up the distance from the end of June for a marathon in September.
For the first time in my life I voluntarily bailed.   I'm going to blame the Hilton Harriers for this.   They are always so welcoming and such fun to spend time with, that at 24 km, I decided to take a shortcut back to their tent!   I just could not face another 8km of pain.
All was not lost though – there was more than enough hill training on the approximately 300 hills on the course and I also practised some fast downhill running.   It's also very scenic but I wasn't really in that kind of a mood!
I've booked a massage this week and I've bought tape to tape up the offending bits, but will I take a break and rest those bits?  Hell no!   I can't let this man get too far ahead of me!