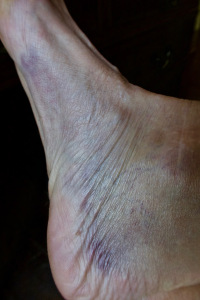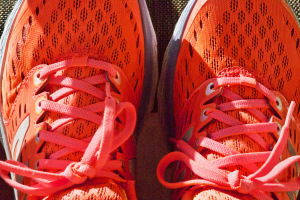 So it's back to orthotics. I've had orthotics since 2010 specifically for this foot but last season I was swept off my feet by a particularly beguiling pair of Nike Vomero. Oh the beauty of them, the softness, the flexibility….I was smitten. The only drawback? Room for only a thin pair of socks, no orthotics. No problem, orthotics were hidden in the bottom of my running drawer.
But I'm an absolute slut when it comes to running shoes – I'm never faithful for long. At the beginning of this year a really fabulous pair of red New Balance Fresh Foam 1080 winked at me and BAM! they were mine! They come in wider than the Nike at the same size with 4mm less heel drop. It never occurred to me to try the orthotics in them – just thicker socks.
On Sunday at the Maritzburg City Marathon, I could feel this foot doing weird stuff in the first half but I tried to ignore it. First it would get sore in the arch, then it would go completely numb. Then I would have to walk so I could wriggle my toes to get life back into them without falling over. And the burning, oh my soul! Or should that be sole?
At 32km it just got too much for me. I turned my watch off in a fit of sulks and walked/hobbled for 3km hoping for a lift. At 35km I realised that no lift would be forthcoming unless I lay down in the road and frothed at the mouth in order to attract the attention of an ambulance, so I decided to run/walk/hobble/curse to the end. I got in under 6 hours so I still get my medal along with the honour of wearing an incredibly lumo shirt – handy if one gets lost on a mountain in a blizzard.
So now I am going to try and be faithful to my New Balance plus orthotics in the build up to the next leg of my journey – the 52km Arthur Cresswell in Ladysmith on 01 April. (I have not missed the irony of the date, nothing wrong with being an April Fool!)