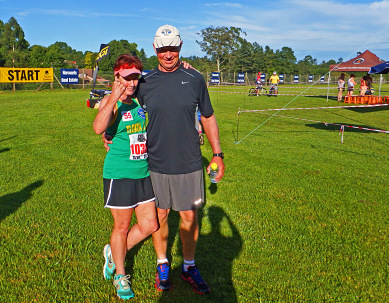 Okay, so it turns out that my dearly beloved spouse is equipped with a 3 litre diesel engine, with turbo probably.   He cruises up and down hills without changing expression or even his breathing pattern.   Meanwhile, I am as red as a beetroot, gasping for breath, and wishing for a stray meteorite to hit me on the head!
Seriously though, this man is either going to kill me, or he's going to improve my running in leaps and bounds.  I'm really hoping for the latter, as I still have a lot of things on my to-do list.
After only 5 training runs, all 6 to 8 km in length, he tackled the Ronnie Davel 16km this last Sunday with me.   It's a really pretty course, through forests and vlei, but tough, hilly and hot.  We did a slow but steady 8 minutes per kay but he never wavered and I really feel I was holding him back at the end!
It's absolutely awesome to be married to one's training partner, so I've now decided to scrap my plans for a full marathon in Maritzburg on 22nd February – we'll do the half marathon together instead.   It may sound like a step backwards, but not really – I know he's going to make me work very hard.   Maybe a 21.1 km personal best?
Anyway, in the meantime,  I'm going to have to chip my engine!