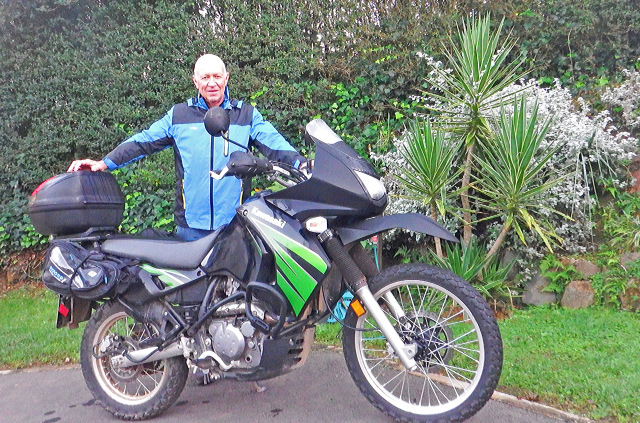 What a Comrades!  The OG and I seconded on our KLR650.   All those that know me well,  know that I am terrified of the freeway.  I won't drive on it – I take all the back roads even if my journey is longer.   And as a passenger I'm impossible.
Anyway there I am about to embark on a motor bike trip on said dreaded freeway.  I had no choice – the traffic congestion at Comrades has become so bad on the up run that a bike is the only way to go.
Seconding goes like this.  You agree with your runner on where and how often to meet and you carry everything they may need.  And I mean everything.  Nothing is more indecisive than a runner deep in the pain cave.  I know.  As the race progresses they don't know what they want any more.  Simba chips, ice chips? Food, drink? Maybe a  small revolver?
Luckily we now have apps to see exactly where the runner is so that we can calculate the next stop – without the app you rely on the runner sticking to their pacing chart.
The route itself is closed to traffic so one has to go from A to B on the freeway and then take various back roads to get as close to the route as possible.
Fear of the freeway be dammed!  I had a great day. We watched the sunrise as we sped towards Gillits.  We managed to see our runner as well as others from the club several times, we ducked between trucks, rode on the grass bit in the centre of the freeway and dodged numerous traffic cops.
The highlight of my day though was being there to see our two daughters and son-in-law conquer this beast of a run.
Sean (he with no off switch or pain threshold) battled with nausea and vomiting but still managed a very solid 10:10.
Our younger daughter Steph smashed a whole 90 minutes off her previous up run, sailing in at 9:57.  Yay for Banting and the Phat Girls!
But the one that really blew my socks off was my older daughter Lauren who felt "pap" right from the beginning.  She had a mouth infection during the five days before the race plus antibiotics.  Right from the first 30 kay's she started falling behind her pace and the race was a 12 hour battle.  At 15km to go we did some quick maths and decided that she would probably beat Polly's but would come into the stadium 5 to 10 minutes late.  She decided to keep going and just try.  That takes immense guts after already having run upwards of 70 km.  I know because I've faced the same situation twice – and each time I've bailed.  When I saw her come around the corner at the finish with 4 minutes to spare I was delirious with excitement.  They probably heard me scream in Camperdown.   That was true vasbyt – I salute you Lols!