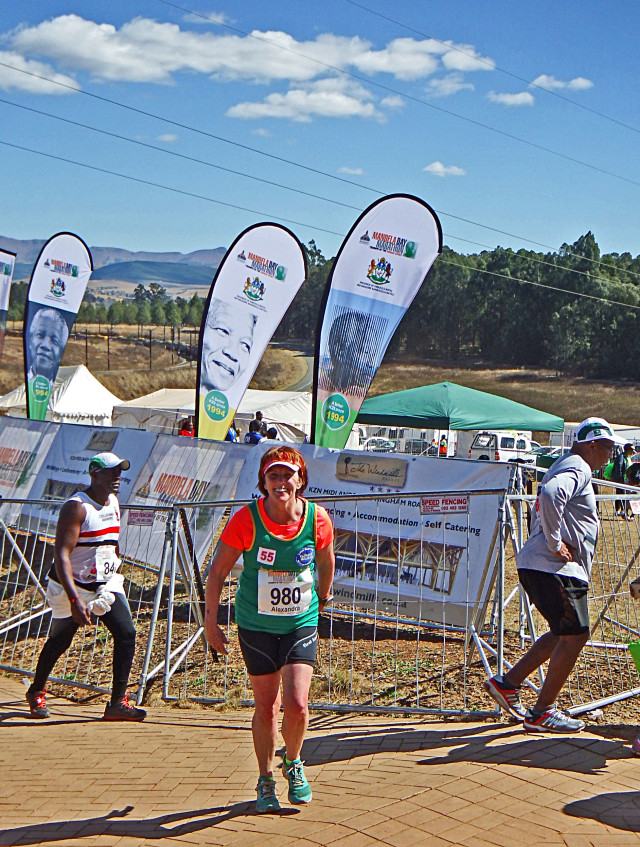 Well, it's 5 days after the Mandela Day Marathon was conquered (as a long, slow run in 6:09) and my body and mind are recovered and already planning for the next marathon  –   Cape Town on the 21st September!    I won't train again until Monday though  –  I think a full week's rest is a good idea  –  but I am rearing to go.
I finished the Mandela feeling good,  even smiling!    And smiling despite some of the longest,  steepest hills I have seen!   This is definitely due to my improved aerobic base (thank you Dr Phil Maffetone) and my vastly improved way of eating (thank you Prof Noakes).    I do all my long,  slow training (up to 3 hours) on just water and a small handful of nuts and that was what I took in on my last marathon on the South Coast (also 6:09).   This time,  after listening to one of the podcasts on "Ask Prof Noakes",  I decided to add a bit of carb in the form of Heed drink made by Hammer (26 grams of carb per sachet, but only 2 grams of sugar).    I used 2 sachets over the whole 6 hours.   I also added some carbs for breakfast in the form of a banana and some honey with my double cream yoghurt and creamy coffee with coconut oil.   I felt amazingly strong thoughout,  no dips in energy, mental or physical.    I  just can't say it enough  – Banting is the way forward!
Well, off to work early to get ahead of myself so that I can take time off for the next marathon – life is good!